Our team consists of a Board of Directors, ministry staff, volunteers, and artistic contributors.
Founder, Lead Minister, President
Our AHM Founder is a Singer/Songwriter/Speaker/Author in Nashville, TN. Her experience at Bible college and her time as a worship and youth pastor have given her a great foundation for equipping people in their faith. She loves to spark "aha" moments with God, and she does it with a great sense of humor.
Rachel battled Lyme Disease for over 20 years, and through these difficult decades, discovered how to walk with God and hear His voice through exhaustion, pain, and question marks. Over the years, she experienced God's daily grace, and learned how to press in for healing and breakthrough. She believes God is still in the business of miracles, and He delights to do them.
Rachel has won numerous awards for songwriting, produced several full-length albums, and has authored four books. She believes AHTV will be her legacy ministry. Rachel lives with her brainy, guitar-making husband, Derek, and their really old rescue pup, Joey Smiley Wiggle Socks.
For more info about Rachel, check out:
RachelBarrentine.com
Ministry Assistant, Director of Social Media & Podcast
Rachael Thomas is a worship leader, songwriter and Nashville resident as of 2018. A born Texan, Rachael discovered her passion for writing music when her mom forced her to take piano lessons at 8. As a teenager, multi generational worship became a resounding theme in her heart and led her to writing music for children's projects, student choirs and churches where she served on staff as both a children's worship leader and worship director. She's passionate about seeing others diving into their relationship with God through practical resources and loves serving on the Anchorhouse.tv team with all things social media!

Her greatest songs are "Camden", "Harper", "Raleigh" and baby number 4 Finley! When she's not rocking that mom life in the minivan, you can find her and her husband Jason sneaking away to discover great food and coffee!
Jim, Treasurer | Sherry - Director
Jim and Sherry are pastors and nurturers through and through. They love to come alongside and shepherd hearts and encourage people to live into their full potential. Jim is an exceptional businessman with God's favor on everything he does. Sherry is the closest thing to a hug from God Himself. We are grateful for their leadership and the way they carry a spiritual father and mother anointing. They are on staff with Hope Unlimited Church (Hope UC) Nashville.


Jackie Patillo, President and Executive Director of the Gospel Music Association since 2010, is an energetic force for progress within the Christian and Gospel music community, working tirelessly to bring all genres of Christian music together into one unified community, celebrating all voices under one banner of glorifying the kingdom of God.

Her past work with CCM and Gospel artists like Phillips Craig and Dean, Natalie Grant, Russ Taff, Marvin Sapp, Kirk Franklin, Byron Cage and others uniquely qualifies her to lead the GMA. Along with her dedicated team, she has worked to overhaul and rebuild the GMA Dove Awards, the industry's hallmark event and one of TBN's highest rated shows with over 1.5 millions views to date.

Jackie is also the driving force behind GMA Honors and the GMA Academy. Inducted into the Stellar Gospel Music Hall of Fame in 2019, she also serves on the Gospel Music Trust Fund as a trustee, Lipscomb Universities College of Entertainment and Artists Advisory Board, AnchorHouse Ministries, Inc. Board, Love Justice International Board and Studio Bank Founders Advisory Board.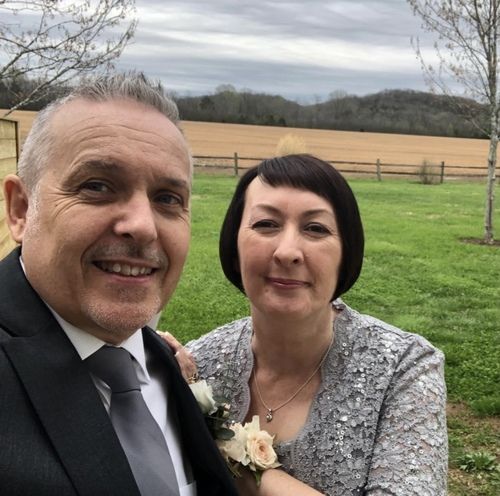 During a trip to Scotland in 2017, The Lord awakened a deeper passion for poetry in Bob Blankenship. Today Bob is determined to use his gift to share the love of Jesus with the world. This includes a special emphasis on challenging the church to be courageous in their pursuit of reaching the lost for Christ. In addition to being featured in GODSPEED Magazine, Bob's work has gained recognition at Ohio Christian University and Nashville Tennessee's Brave Worship. His poetry has been a natural fit for worship projects. Amanda, Bob's wife, is a zealous worship warrior who has chosen to serve in many churches and ministries. Recently, Bob has started a local poetry guild in their local community of Thompsons Station TN, and he is working to launch his first podcast and book.
Songwriter, Worship Leader, Creative
Leah is passionate about helping others grow into a more intimate relationship with Christ through understanding and applying the truth of God's word. For many years, she has come alongside women to help with life's challenges through Biblical Counseling and as a Life Group Leader.
With 20+ years experience as a worship leader and songwriter, Leah's desire is to usher people into the presence of God as they grow closer to Him.
Marketing Specialist, Social Media, Volunteer